News
Discover Hunting Paradise in the Black Hills
November 16, 2012
Hunting wild game is as old as humanity itself.
Due to the wild landscape and the rich and diverse flora and fauna, the Black Hills of western South Dakota are a hunter's paradise. Here, in one of the oldest ranges in the country, the outdoors enthusiast will find every breathtaking scene that initially spurred in them a great love for the great outdoors: quiet stretches of empty woods, acres of pine interspersed with aspen groves, calm and wintry sunrises and sunsets, and an abundance of native plant and wildlife.
When October rolls into the Hills, it's not uncommon to hear the sound of a shotgun, rifle, or muzzleloader firing in the distance. The area is a renowned pheasant hunting location and a top choice for huntsmen worldwide of various large and small game types. Palmer Gulch Resort offers the following information for out-of-town sportsmen about planning a trip to this hunter's paradise:
WHAT TO HUNT:
Pheasant.
The South Dakota Game, Fish & Parks (SD GFP) identifies parameters around hunting seasons for all types of game available for tracking and hunting across the state. South Dakota pheasant hunting is one of the most prominent seasons in the region: the 2012 season began on October 20th, and it ends on January 6th, 2013.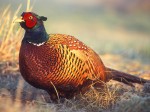 Whitetail & Mule Deer.
Deer hunting is another popular pastime in the Black Hills, and both of these species of deer are native to western South Dakota. Residents and non-residents alike can engage in Mule deer and Whitetail hunting in the Black Hills area—however, hunters, local or not, are encouraged to review guidelines set forth by the South Dakota Game, Fish & Parks
>>Click here to purchase a license and review guidelines.
Rocky Mountain Elk.
Elk hunting is also customary in western South Dakota, and elk hunting trips pull sportsmen to the region for miles around. The area's current elk herd consists of over 4,000 Rocky Mountain elk, and only South Dakota residents are eligible for the proper licensing to hunt elk in South Dakota.
WHERE TO STAY:
Whether you're an East River resident flocking to the west side of the Missouri for an epic elk hunting trip, or an out-of-state hunting aficionado travelling from afar for the bountiful South Dakota pheasant hunting, you can find a home-away-from-home at the Palmer Gulch Resort. Palmer Gulch is an out-of-doors wonderland outfitted with every necessity and convenience a travelling sportsman could require.
Palmer Gulch's Executive Lodges.
The executive lodges at Palmer Gulch are open all year round. When hunting season commences in the crisp, cool days of fall, Palmer Gulch adjusts the thermostat and prepares for a round of cold weather tourists, huntsman included. Our Central Hills location is ideal for the sportsman set on a hunting expedition that allows for exploration. Highway 385 runs straight through the heart of the Hills, providing central access to 1.2 million acres of wilderness and wildlife.
Our rustic mountain cabins are complete with fully-equipped kitchens, ample sleeping space for up to 8 hunters, and a fireplace to settle around when night falls. For more information about our executive lodges, visit the Palmer Gulch Resort website.
WHERE TO HUNT:
In addition to controlled hunting access, the Black Hills provides ample opportunities for sport on public lands, private lands, public road rights-of-way, and walk-in areas. From your home base at Palmer Gulch, you'll find yourself in the center of it all: Custer State Park, the Badlands, and a wide expanse of Forest Service acreage. However, the State of South Dakota has rules and regulations set in place about when, where, and why you can or can't hunt.
>> Know the rules! Visit the SD GFP website.
About the Palmer Gulch Resort
The Black Hills provide ample opportunities for wintertime adventure, and the executive lodges, open all year round, at the Palmer Gulch Resort are here to serve as your snowy home away from home. To learn more about Palmer Gulch Resort, or to make a reservation, visit our website at www.palmergulch.com or call 1-800-562-8503. Information packets are available for group gatherings, as well as GPS directions and maps of the area.
---
Last Modified: 06/25/2014 12:22:02 pm MDT