News
Family Winter Activities - Strap on your Snowshoes!
December 10, 2012
All too often, the Black Hills of western South Dakota are mistaken as a simple summer destination. It's true—tourism reigns over the Black Hills, SD summer…but what about the beautiful winter snow that blankets the region from Christmas to spring? There has to be at least one or two family winter activities for enjoying the frosty Black Hills season…
Snowshoeing provides an excellent opportunity to embark on a Black Hills wintertime adventure with your family in tow. Experience a spectacularly snowy countryside and spot regional wildlife as you tramp the Black Hills forest with a pair of new or rented snowshoes strapped to your feet. An experience in snowshoeing is one of many winter hiking essentials.
Snowshoeing is great for family winter activities that favor sport, motion, and the opportunity to try something new. This wintertime diversion calls for two fundamental things: a pair of shoes ...and an adventurous spirit. In that case, count a new pair of snowshoes amongst winter hiking essentials for gifts this holiday season!
Your trek can be as easy or as strenuous as you like—Palmer Gulch is a Black Hills, SD resort that would be happy to offer some suggestions about where to begin your winter hike:
The Centennial Trail
This 111-mile stretch extends from Bear Butte Lake to Wind Cave National Park. The beauty of this trek is in the diversity of its landscape. Should you choose to divide up these 100+ miles and spread it out over multiple weekends, your family can witness vastly different scenes from one comprehensive trail.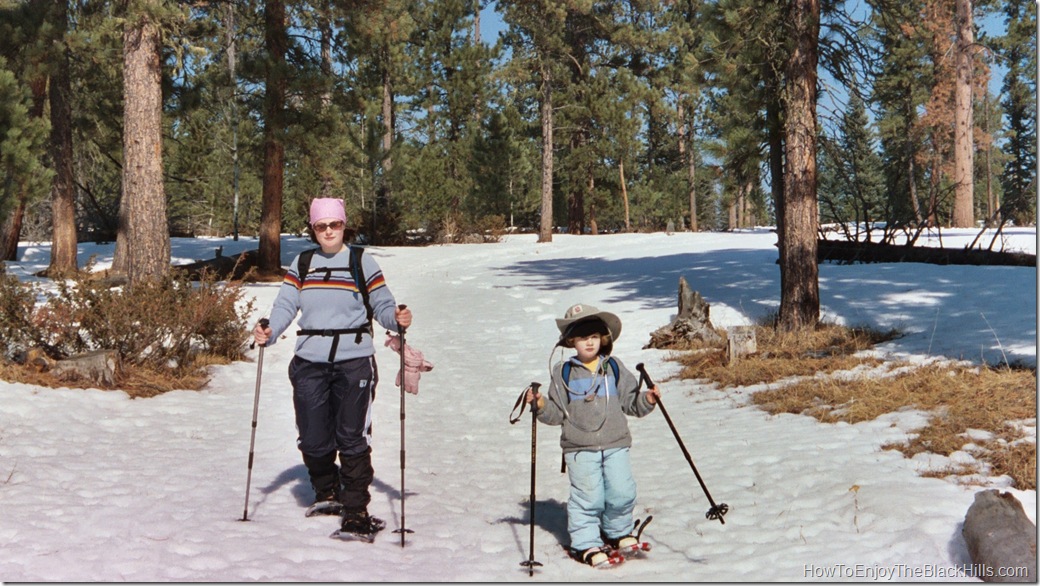 The Mickelson Trail
Due to its gentle sloping, this 109-mile long trail is the most "family friendly" for groups with younger children. It also features 15 different trailheads for striking out on a fresh journey each time you set out with your snowshoes. Park at the Moonshine Gulch in Rochford, South Dakota, spend the day trekking in the Central Hills, and then return to this local watering hole for hot drinks!
Deerfield Lake Loop
This 10 mile track in the Central Hills provides something a little more strenuous for the ambitious snowshoe adventurer. In addition to providing a good cardio workout, the view of a calm and frosty Deerfield Lake is unparalleled this time of year. Deerfield Lake is located approximately 15 miles north of Hill City.
Beaver Creek Ski Trail
The Beaver Creek Ski Trail system outside of Custer, South Dakota is an outdoor network for snowshoers and cross-country skiers alike. The system consists of six trails total with an overall distance of 12.9 miles for hiking. Choose from the Porcupine Trail, Dry Beaver Trail, Highland Trail, Mallo Trail, Sunshine Trail, and Highnoon Trail - but be cautioned that the Mallo Trail is a groomed snowmobile trail; practice extreme caution and watch vigilantly for motor vehicles.
Cut your own Path in Black Hills National Forest.
The Black Hills provide acres upon acres of opportunities to head out and explore. Sometimes, half the fun is in journeying with no specific destination in mind. Pack your children and your snowshoes into the family vehicle, set out on any number of Black Hills highways, and go where you intuition takes you. You never know what beauty and adventure you might discover in this ancient Black Hills, SD mountain range.
Winter hiking essentials, such as snowshoes, are available through local ski shops, lodges, and outdoor recreation retailers. If you're coming from out-of-town, there's a wide selection of places to stay spread throughout the region. However, Palmer Gulch Resort is an excellent central location for mixing adventure with the history and wonder of Mount Rushmore. It's also one of the most family friendly lodging options in all of western South Dakota!
About the Palmer Gulch Resort
The Black Hills provide ample opportunities for wintertime adventure, and the executive lodges, open all year round, at the Palmer Gulch Resort are here to serve as your snowy home away from home. To learn more about Palmer Gulch Resort, or to make a reservation, visit our website at www.palmergulch.com or call 1-800-562-8503. Information packets are available for group gatherings, as well as GPS directions and maps of the area.
---
Last Modified: 06/25/2014 12:22:02 pm MDT